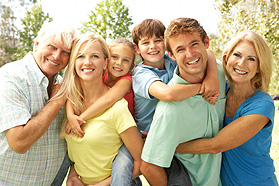 At Bellarine Dental Lounge, it's all about you! With our friendly and experienced staff, we aim to create a positive experience for every person.
From the moment you arrive, we want you to feel welcome and cared for. We offer longer appointment times of up to an hour for your check up so that you know that you are not being rushed, that you have the time to talk to your dentist, and that your dentist can get to know you and your needs and concerns - all at no extra charge.

Your health, comfort and individual concerns are important to us, and we work with you to personalise the best plan for your unique dental needs.
Our team has the most caring dentists in Drysdale who are prepared to listen to you and your unique dental needs. From IMPLANT dentistry to comprehensive cosmetic and family dentistry, our dentists and team aim to provide the best. We also BULK BILL children eligible for treatment under the Child Dental Benefit Scheme.
So, how can we help you?